Take Off In Travel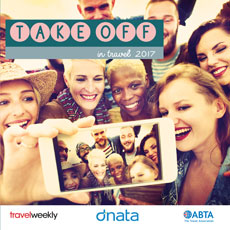 Welcome to the 2017 edition of Take Off in Travel, which this year celebrates its fifth birthday!
Five years ago, we published our first edition of Take Off as many people in the travel and tourism sectors told us how difficult they found it to get the best young people in the UK to join this fantastic industry.
For those of us lucky to work within the industry, that seemed incredible – after all, who wouldn't want to work somewhere with fantastic opportunities to progress and see some amazing places at home and abroad?
But we also realised that there were still lots of myths surrounding a career in travel – that it was low-paid, was only seasonal or was just a jumping-off point before going and getting a 'proper job'.
Over the past four editions – and hopefully again this year – we've set out to shatter those myths and highlight the range and wealth of opportunities available in what might surprise you to hear is one of the UK's biggest industries.
In this biggest-ever edition, we talk to those just starting out in their careers and those who've reached the top, and we also talk about the array of jobs in the industry and how you can learn more and get your foot in the door.
For the fifth year running, I am delighted that we are working with the travel association ABTA as our key partner, and huge thanks also goes to our headline sponsor, dnata Travel, which is a glowing example of how travel companies nurture and support young recruits and take them all the way to the boardroom.
If you like what you read in the first half of this year's Take Off in Travel, then make sure you turn to the second half, starting on page 68, where you can find out about a host of companies who want YOU to become one of their stars of the future.
I hope you enjoy this edition of Take Off in Travel, and I look forward to meeting you in this fantastic and inspiring industry.
Good luck!
Please click on the image to view the digital version.
Lucy Huxley, editor-in-chief, Travel Weekly